Enjoyed the Alps over, Reblochon is a distinctly heady soft, rinded Savoyard cheese, which you'll no doubt come across on your ski holiday.
Banned in the US for having too much flavour (in all seriousness, it is banned there, they seem to a have a problem with it being made using unpasteurised milk – as is the way with many French cheeses), it's best melted, crisped up all golden using some form of intense heat. Put it over anything. Or have it by itself smothered in honey and breadcrumbs… Just yes…
Though I digress.
It's most famous guise is as the integral ingredient in tartiflette: a stonkingly hearty Savoyard dish comprising of cheese, cream, cheese, smoked bacon, cheese, potato and, um, onion…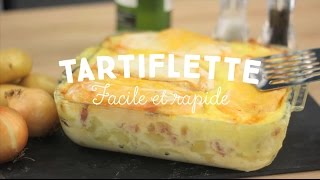 Check out this tartiflette recipe by CuisineAZ. It's in French, so désolé.
Now for some proper history
So back in the 14th Century, not up for being done over by the local landowners, the farmers of the Haute-Savoie hatched a plan. They would hold back a little milk in the udder, so they weren't taxed the full yield. After the departure of said landowner, they'd finish of the milking. The result: a richer, creamier lactation; a creamier, richer cheese….
In fact, the name Reblochon is derived from 'reblocher', which literally translates as "to pinch a cow's udder". It was also offered to the Carthusian monks for the blessing of one's homesteads, hence becoming known as "fromage de dévotion" – devotional cheese. So there. If monks like it, it's a good sign. Going by their choice in beer, the ecclesiastical seem to have good taste.
Probably equally important is the breed of cattle used, which includes the very local Tarentaisen, or Tarine round these parts. Which look pretty similar to Jerseys, if you're looking for some reference. These beauties are dotted all over where you'll be on your ski holiday with Skibug come summer. Chomping a lush grass and alpine flowers. These magnificent beasts are also responsible for the milk use in Beaufort, another cracking local cheese.
Enough teaching, how's about some eating?
So this is an adaptation of the tartiflette recipe above. Though one that utilises a few more flavours, a different presentation of the humble potato, and is maybe better suited to a dinner party. I give you…
Tartiflette gnocchi, with a honey, rosemary and breadcrumb crust – Serves around 6-8
What you'll need:
– 500g Reblochon (a medium sized wheel is usually around this. You won't necessarily use all of it), slice length-ways, them cut into 4cm by 2cm segments.
– 500g gnocchi (if the packet contains more, not a problem, if less, get 2 packs) – if you want to make your own, here a good recipe. I'd blanche for a about a minute before using them.
– 200g pack of smoked bacon lardons
– 2 medium onions, finely chopped
– 2 cloves of garlic, crushed
– 125ml glass of white win
– 250ml single cream
– 2 tsp of ground nutmeg
– Small handful of fresh, finely chopped rosemary
– Honey
– 200g of breadcrumbs
– Little bit of olive or vegetable oil
You'll also need 8 ramekins, the size of which may determine how many portions you get.
What you do:
1. Pre-heat oven to 180c
2. Soften the onions and garlic, then decant into bowl – remember: low heat
3. Turn the heat up high. In the same pan crisp up the bacon
4. Use wine to deglaze the pan, with the bacon still in.
5. Turn heat to low. Add cream. Season well with pepper, be careful with the salt, as the bacon and Reblochon are both quite salty. Leave to simmer for 3-5 minutes.
6. While the above is happening, divide the gnocchi evenly into the ramekins
7. Take the pan of the heat and lavish the ingredients evenly over the gnocchi. If it's over reduced/not enough liquid you can always top up with more cream, even a smidgen more wine.
8. Place your strip of Reblochon over the gnocchi, glaze it with a good bit of honey. Mix the rosemary and breadcrumbs together, then sprinkle over the honeyed Reblochon
9. Place ramekins in the oven and cook for 10 mins – if they look like the need a little longer, leave them a little longer; if you know your oven's a brute, check after 8.
10. Put it on a plate with some tasty salad. Serve as a started if you're having a big one (and maybe a lighter dish after), or as a main.
11. Stuff it in your face.
After all this, you should probably go and book a ski holiday with Skibug. Then you can have things like this with complimentary wine. And ski. So why not?