About Skibug
Skibug provides all the top notch, excellent service you expect on a luxury catered chalet holiday but with a lower price-tag and a down-to-earth attitude.
We are a small, independently run company and really care about the guests we receive.
We specialise in great value, fully catered, ski and snowboard chalet holidays in the French Alps
with chalets located in La Plagne, Les Arcs, Tignes and Vallée des Belleville (Les Menuires).
Our prices include fully catered accommodation in lovely, traditional and cosy alpine chalets,
complimentary airport transfers, unbelievably good food and excellent complimentary bottled wine.
We have chalets in three of the greatest ski areas in the Alps including
Paradiski, Espace Killy and Les 3 Vallées so whether you're looking for stunning views, perfect snow,
amazing off-piste, great après-ski or somewhere family friendly we've got a chalet in the perfect resort.
Skibug are also excited to announce that as of this summer, we are offering our very own Chalet Cookery School. If you're looking to do a ski season, this chalet cookery course will equip you with all the skills you need to cook and maintain a chalet.
catered ski holidays from as little as £345
Watch our video for an idea of what to expect on a Skibug holiday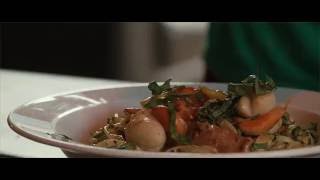 Start your chalet holiday today...
We've got some things we'd like to share...
Chalet Bourdon | La Plagne – let's think BIG So maybe you're a group of families that have used catered ski chalets for yonks. You've shared the joys of a Christmas week skiing in the French Alps, but, alas, you've never all sat down as one to a tasty Christmas feast as your group is […]
More info
Let Skibug transport you to the Alps… Let Skibug help you get in the mood for your catered ski holiday with this easy and delicious 'Taste-of-the-Alps' recipe. As you ponder about all those things you love about your skiing holiday, sampling delicious local specialities on your chalet hosts' night off must be high on your […]
More info
Exceptional food and wine...
At Skibug we take great pride in everything we do for you. We do our best to make you as welcome as we possibly can. We keep you as comfortable as we possibly can and we also strive to feed you as well as we possibly can. We´re passionate about really great food and also about wine, good wine....we really love to eat and drink. We´re proud of the service that we offer our guests here at Skibug and hope it comes across in the food that we prepare for you and the wines that we serve.
The Skibug team
What our guests think...
What our guests think...
Dear Elena, I have just ended a week at the Eagles Nest and it has been a fantastic experience. Ben and Caylee have been exceptional hosts. Ben has demonstrated his passion for food daily and is clearly a very talented chef. Caylee has also looked after us and has been very entertaining company. We would all stay again so I would like to convey my thanks!
Chalet Eagles Nest, Feb 2016
Hi Elena A note to say thanks for our week in La Plagne with Skibug. Aaron and Bex did a good job and I know their patience must have been tested at times! Both transfers were as efficient as they could have been (given it's the busiest week of the year) and the guys in the ski shop were both patient and helpful. The chalet was roomy and comfortable and I'd be happy to stay with you again. Thanks again for all of your help.
Chalet Marine, Feb 2016, Stark Party
Hi Elena Just a few words to say thank you very much for your help last week. I have to say your accommodation and your Chalet hosts were excellent.
Skibug cover some of the largest ski resorts in the world...