About Skibug
Skibug provides all the top notch, excellent service you expect on a luxury skiing holiday but with a lower price-tag and a down-to-earth attitude.
We are a small, independently run company and really care about the guests we receive.
We specialise in great value, fully catered, ski and snowboard chalet holidays in the French Alps
with chalets located in La Plagne, Les Arcs, Tignes and Vallée des Belleville (Les Menuires).
Our prices include fully catered accommodation in lovely, traditional and cosy alpine chalets,
complimentary airport transfers, unbelievably good food and excellent complimentary bottled wine.
We have chalets in three of the greatest ski areas in the Alps including
Paradiski, Espace Killy and Les 3 Vallées so whether you're looking for stunning views, perfect snow,
amazing off-piste, great après-ski or somewhere family friendly we've got a chalet in the perfect resort.
Watch our video for an idea of what to expect on a Skibug holiday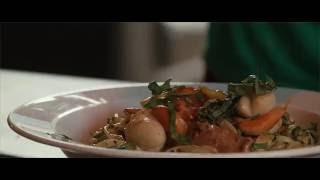 What our guests think...
What our guests think...
Dear Elena, I have just ended a week at the Eagles Nest and it has been a fantastic experience. Ben and Caylee have been exceptional hosts. Ben has demonstrated his passion for food daily and is clearly a very talented chef. Caylee has also looked after us and has been very entertaining company. We would all stay again so I would like to convey my thanks!
Chalet Eagles Nest, Feb 2016
Hi Elena A note to say thanks for our week in La Plagne with Skibug. Aaron and Bex did a good job and I know their patience must have been tested at times! Both transfers were as efficient as they could have been (given it's the busiest week of the year) and the guys in the ski shop were both patient and helpful. The chalet was roomy and comfortable and I'd be happy to stay with you again. Thanks again for all of your help.
Chalet Marine, Feb 2016, Stark Party
Hi Elena Just a few words to say thank you very much for your help last week. I have to say your accommodation and your Chalet hosts were excellent.
Dear Elena I just wanted to thank you from our whole group for a fabulous week at Chalet Sauterelle in Tignes. It surpassed our expectations! A special thank you to Paul and Lorraine for being fantastic chalet hosts, Lorraine´s food was truly restaurant quality. Hoping to be back at some point!
Chalet Sauterelle, April 2015
A short note to thank you, Steve and the whole Skibug team for looking after us so well last week during our stay in Chalet Dionee in La Plagne. We had a great time and this was down in large part to your fabulous organisation and the great characters you have out there. All the logistics worked really well and I can assure you that your customer focussed attitude was really appreciated. We have been out on similar holidays previously (including to la Plagne) but never yet met such a courteous, well organised team as yourselves.
Chalet Dionee, Feb 2015
Hi Elena, I just wanted to say thanks very much to all at SkiBug who once again looked after us so well in La Plagne last week. We keep coming back because you make it so easy & enjoyable for us to return. You run a great business with the focus always on delivering excellent customer service. In terms of our specific experience in Chalet Nichoir, the host was great and an amazing chef. All staff were excellent company during the week. We are already thinking forward to 2016 and maybe a return to Tignes.
Chalet Nichoir, Feb 2015, Timmy Tours
Can I just thank all at Ski Bug for our fantastic holiday last week at Chalet la Sauterelle in Tignes. The chalet is fantastic, in a wonderful location in the middle of the Tignes valley, with easy access to the slopes, shops and après. But, as always, it was the service from all the Ski Bug team that really made the holiday.
Chalet La Sauterelle, Jan 2014, Timmy Tours
Hi Elena, Thank you for another fabulous holiday. We loved the chalet in Tignes...Paul & Lorraine were absolutely fantastic hosts...they really couldn´t have been more friendly & helpful. The chalet was spotless, warm & cosy & the food was incredible. Lorraine´s cakes are just gorgeous! We will be back next year...having now had 2 great holidays with you, we wouldn´t even consider using anyone other than Skibug.
Chalet Sauterelle, Feb 2015
I just wanted to say a huge thank you for a fantastic stay up in La Plagne. The chalet and resort surpassed our expectations and the skiing was first class. We found Ellie and Simon to be great hosts, great food and such a great location to pop on skis first thing in the morning. All the best with the rest of the season, and your emerging summer business plans.
Chalet Luciole, March 2015, The Miller Party
Dear Elena and Steve, Thank you for facilitating such a fabulous skiing experience for us. The chalet, staff and resort were all very high quality. In particular I would recommend ski hire 'Rental Republic' and the massage lady Jade!
Chalet Chenille, December 2014
All of our chalets are beautifully situated, welcoming and comfortable - all within easy reach of the slopes. They're equipped with all the modern conveniences you expect, including free Wi-Fi, TV, DVDs and HiFi, as well as plenty of books and games...
The Skibug team
Find out more about the chalets in each resort...
Exceptional food and wine...
At Skibug we take great pride in everything we do for you. We do our best to make you as welcome as we possibly can. We keep you as comfortable as we possibly can and we also strive to feed you as well as we possibly can. We´re passionate about really great food and also about wine, good wine....we really love to eat and drink. We´re proud of the service that we offer our guests here at Skibug and hope it comes across in the food that we prepare for you and the wines that we serve.
The Skibug team
Follow the links below to find out more about the resorts...